6 Steps to Creating a Heart Rate Training Program for your Studio
By Chuck Leve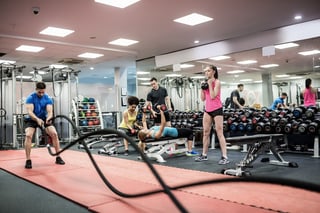 As heart rate training continues to proliferate, many studio owners struggle with exactly how to introduce the concept into their environment. While the ideas of tracking, displaying, and personalizing are valid and desirable, it can be challenging to effectively move from concept to program. Here are several ideas worth of consideration.
1 – Why Are You Doing This?
The first question to ask is, "Why?" With any new program you bring into your fitness studio, there needs to be a reason to do it. What problem are you trying to solve? Are you looking to boost retention? Offer a new training regimen? Create some excitement into the atmosphere of your studio?
Will a significant heart rate training program be well received by your customers? What are they training for? Training for competitive runs is a lot different than training for weight loss. Heart rate programming can be effective for both – but the programs will not necessarily be the same.
Understanding your clients and their needs is step Number 1
2 – How Does Heart Rate Training "Mesh" with your Brand Promise?
Since no fitness program is one-size-fits-all, it's important to understand what the introduction of a heart rate training program will mean for your studio and how it will be received by your clients. Is there consistency there?
For example, if you're presenting a HIIT environment, your clients may say, "Yes, it's about time!" On the other hand, if you're a more personal training oriented business, there may be more puzzlement on the faces of your customers.
This all points, therefore, to the proper introduction of the program. Internal marketing to current customers in some ways is more important than external marketing to future customers. It's from your current clients that your early adopters will come.
3 – There Is a Commitment Here – and a Science
Both are critical to success. Heart rate training is built on solid science and with that base comes the need for commitment - from you (the studio operator), your trainers, as well as from your participating clients. Programs are built into multiple week protocols. Be prepared for this commitment.
This extends to all components of your studio. Your classes, your website, your rewards programs. It's also very exciting. By providing your clients the ability to track and review their progress they will embrace heart zone training and their commitment to you and your studio will increase. Everybody wins!
4 – Tracking Is a Must. How's your App?
The old saying, "knowledge is power," is totally true in a heart zone training environment. And in order to properly use the knowledge that zone training provides, one has to track it.
Tracking is easy in the moment, but the true value is in the conglomeration of such moments over the course of time. Tracking will reveal progress and progress stimulates commitment that leads to more progress. Improving clients reaching objectives puts you squarely into the "word of mouth" marketing nirvana that all studios seek.
Most heart zone training companies have apps that allow your customers to track their progress. Your members can track workout data in real time, track their heart rate zone and calories burned, as well as their heart rate summary at the end of a session.
5 – Learn from Others
You won't be the first studio to implement a heart zone training environment into your fitness mix. Many others have come before you and many others will come later. The key here is to reach out to your peers - connect with those who have "been there, done that" in order to eliminate costly mistakes.
Most manufacturers can support you in this regard, by offering assistance in setting up your program as well as providing references of their customers who have previously been where you are. Trade associations like the Association of Fitness Studios (AFS) can also connect you with studios as well as reputable suppliers.
6 – Buy the Right Equipment
Okay, so you've made the decision to jump into heart zone training with exciting wireless displays of individual and group performance results on single or multiple screens around the studio. Yes!
Keep in mind that there are many companies out there serving this segment of the fitness business. It's imperative that you select the company that meets your needs. This often is a difficult decision, but you want to ensure that your studio size, clientele, and of course, your budget are all factored into the equation.
Do your homework. Your supplier in this regard will be a partner (of sorts) in your business.
About the Author:

Chuck Leve is a 40-year veteran of the fitness industry and proven successful developer of fitness industry associations. Currently he serves as the Executive Vice President of Business Development for the Association of Fitness Studios (AFS). He's been involved in the creation and development of some of the most successful trade associations in the history of the fitness industry. For more information on AFS visit afsfitness.com.