Are Workout Pods the Future of Fitness?
Are Workout Pods the Future of Fitness?
The COVID-19 pandemic has forced fitness clubs to get creative to keep their members safe, happy, and coming back through the doors. One trend having a major moment? Workout pods. Here's a closer look at this innovative new way to workout.
Introducing Workout Pods
With fears of coronavirus continuing to rise, fitness businesses are going to new member recruitment and retention measures. Enter workout pods. These isolated spaces allow exercisers to continue toward their fitness goals without the risk of coming into contact with the germs and "respiratory detritus" of their fellow fitness enthusiasts.
Take LA's South Bay Fitness, for example. Rather than using expensive plexiglass dividers, the gym constructed its own workout pods from pipes and shower curtains for use in its weight room. Owner Pete Saspin said, "It's been really tough. We weren't sure if we were gonna [be] able to reopen again. But because now that we've come up with this solution, it's a lot more affordable and, now, we can reopen back up a little safer and healthier for our clients."
The inspiration for these pods, meanwhile, came from an interesting place: the solitary confinement found at supermax prisons. Designed by Saspin's wife and built by the club itself, the entire project cost less than $400 and was met with rave reviews by members. "We sent the prototype to our clients, and they were very excited and felt more comfortable knowing there was a clear wall between one person and the next," said Saspin.
The Member Engagement Imperative
Austin, Texas's Castle Hill Fitness also turned to workout pods after realizing that online classes were insufficient in keeping community members engaged. While the club prioritized reopening, many challenges were involved. "Castle Hill Fitness caters to a wide range of higher-risk clients, and we had to keep them in mind as we planned to reopen. This led to additional features like air filters, as more data was being discovered about the novel coronavirus," said gym's marketing and brand manager Amy Rogers.
According to owner and president Clayton Aynesworth, the introduction of and transition to workout pods unequivocally supported the gym's reopening. "With the personal workout pods, we can provide a lower risk experience that provides ample physical distance from others, but still has the social interaction we crave and need as humans," continued Rogers.
The fitness pods have been so successful that Castle Hill plans on continuing to use them -- especially with clients loving the new privacy. So while a vaccine may eventually lead to the removal of some of the pods, Aynesworth says some changes may be permanent. This may also be a wise strategic move in the event of future pandemics.
More Precautions Underway
Keep in mind that workout pods don't eliminate the need for other transmission-prevention safeguards. At South Bay Fitness, temperature checks, hand sanitizer, and waivers are still required before members are assigned to their own bubbles.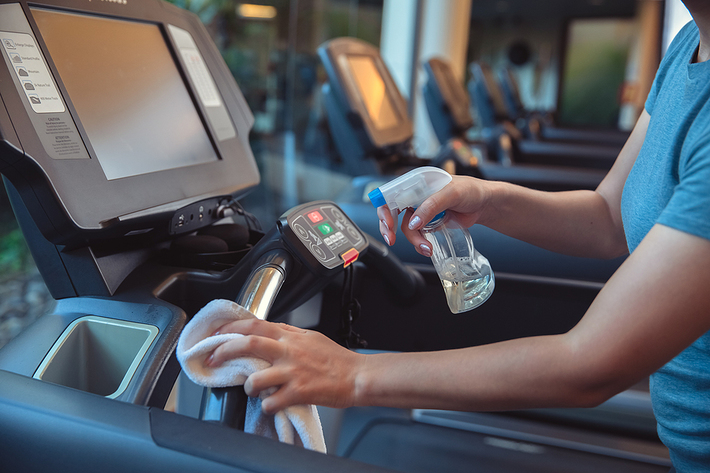 Furthermore, social distancing and capacity limitations are still in place: Just nine people are allowed into the weight room at a time, while personal trainers are still required to adhere to social distancing and mask requirements.
Additionally, other gym amenities remain closed, including steam rooms, saunas, and hot tubs.
While workout pods may not have been part of the "future of fitness" we envisioned just a year ago, it's very much the reality now for gyms all over the country. "The reality is the pandemic is going to be here for a while, and so we are continually brainstorming new ways to support our clients in the long-term," said Castle Hill Fitness general manager Michele Melkerson-Granryd. The takeaway, through these uncertain and trying times, and looking ahead to the future? Agility is everything.
Looking for more ways to support member recruitment and retention? Fitness monitoring technology continues to be one of the hottest fitness industry trends. Download the catalog today to learn more about the cutting-edge AccuroFit System.