Are You Maximizing Your Member Referrals?
Your members aren't just members; they're also ambassadors of your fitness business with tremendous potential to bring new members through your door. But are you maximizing their potential as unofficial salespeople for your community? Here's a closer look at the member referral imperative, along with four tips aimed at helping you make the most of member referrals.
The Member Referral Imperative
People are wary of advertising, and with good reason. However, you can deliver your message without hitting recipients over the head with an aggressive "sales" message. Rather, you can use another powerful tool: referrals.
According to a "Trust in Advertising" report from Nielsen, word-of-mouth referrals from family and friends are the most influential form of advertising. In fact, consumers are four times more likely to buy something if it's recommended by a friend. Concludes Randall Beard, Nielsen's global head of Advertising Solutions, "This form of advertising is trusted by nearly 70 percent of consumers globally, which emphasizes the notion that marketers maintain the ability to control the messages about their brands in a way that consumers consider credible."
There are other reasons to prioritize member referrals, too. For starters, it allows you to acquire new members at a very low cost. Furthermore, enrolling new members who are connected with your current members is a terrific community builder. When members know each other, then they're more likely to stay members.
Four Tips for Getting More Member Referrals
Wondering how to get a member referral program up and running, or how to improve upon your current program? Here's a closer look at four tips.
1. Deliver an unbeatable member experience.
No matter how hard you endeavor to start a member referral program, it will fail if you're cultivating a member experience worth sharing. By providing the very best member experience possible, you ensure that the message your members will pass along to others is one that presents your club in the most favorable light.
Fitness business operations manager Noah Hastay told Club Solutions, "Inevitably if you create a sticky enough experience and can organically make members promoters of your club, you don't even really have to ask them. They will do it because they truly want others to experience the same things they are."
2. Ask and you shall receive.
Of course, it doesn't hurt to give them a little nudge once in a while, which may mean asking them to pass along their positive experience to their network of connections. This costs you nothing but represents significant member recruitment potential.
3. Encourage members to "bring a friend."
Allowing members to bring-a-friend to your gym is a win-win. Not only do members get something they want out of the experience, but it also gets new bodies through the door.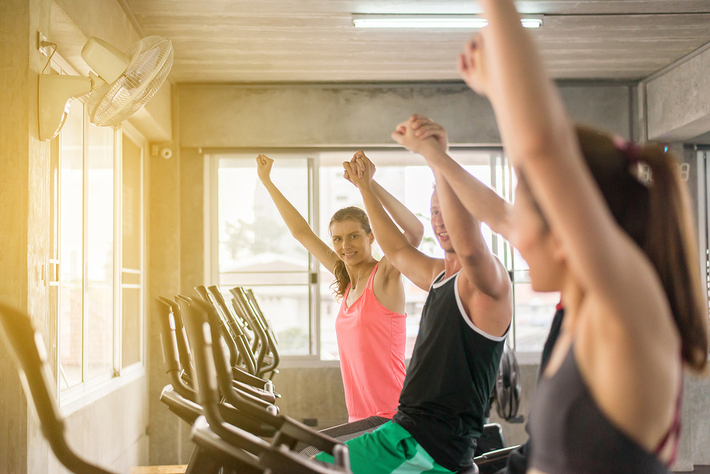 4. Incentivize with rewards
Give your members an extra push by incentivizing them with rewards. This can be anything from a discounted percentage off their membership or classes to free products or gym swag.
The late David Foster Wallace wrote, "[Ad campaigns] are supposed to create an anxiety relievable by purchase." We can think of no poorer way to do business than to cultivate fear -- especially when, as fitness businesses, we are uniquely positioned to help people live healthier and more positive lives. The best people to speak for how your fitness business's products and services are accomplishing this? The people directly using and benefiting from them: Your members. On that note, keeping your members satisfied is equally important, which relies on keeping up with the latest trends in the fast-moving fitness space. Enter wearables. Request a demo today to learn more about how Accuro can support your member recruitment and retention goals.