Beyond the Spin Bike: Getting In On Machine-Based Workouts
Spin classes are tremendously popular for several reasons. Not only do they deliver a serious workout, but they also leave participants with a euphoric feeling of teamwork. Given the success fitness businesses have had with keeping members engaged through spin offerings, it's hardly a surprise that other forms of machine- and equipment-based programming are emerging.
Here's a closer look at the trend, along with tips for fitness businesses looking to get in on the action.
Group Workouts Rule
Group workouts are perennial place-holders on "hottest trends in fitness" lists. After all, it's hard to argue with NPR's recent assertion that "exercising together beats exercising alone." It's also hard to argue with the fact that today's exercise machines and equipment can help make the most of time spent in the gym. While spin classes may be the most widely known method of combining group fitness and exercise machines, other classes are emerging.
"What began with stationary bikes in the exercise room has exploded into treadmills, rowing machines, Stairmasters and ellipticals in the exercise room -- and health clubs around the country are benefiting in terms of both retention and secondary revenue. If you haven't yet begun offering machine-based group classes, or you haven't expanded your offerings beyond daily indoor cycle classes, it's time to consider the possibilities," suggests Club Industry.
The takeaway? If you're looking toward member recruitment and retention, adding machine-based group classes can be a game-changer -- for you and for your members. As certified fitness professional and health and fitness writer Kara Asp told IDEA, "Combo classes offer variety by combining two [or more] activities and allow [members] to be more efficient with [their] time."
Other benefits of introducing machine-based group classes to your programming include offering members access to more of the gym and helping to reduce boredom. They can even draw more members to class -- particularly men, according to fitness business owner and director Carol Murphy, who told IDEA that men are more likely to participate because machine-based group courses are "less choreographed" than conventional group classes.
Tips for Getting Started
Deciding to embrace machine-based group classes is only the first step in getting in on the trend. Which begs the question: How can today's fitness businesses set themselves up for success when it comes to equipment-based classes? The following four tips are a great place to start.
1. Enlist insight from members.
Different gyms have different member constituencies, so how do you know which machine-based group classes will be most popular with your members? The answer is simple: Ask them. Not only will this help you determine which classes will be most successful, but it also supports member engagement and buy-in.
2. Consider your club capacities.
Not all machine-based classes will work for every fitness business. Before deciding on one type of programming over another, be sure to do a cost-benefits analysis. Other logistical factors include floor space, machinery, and your resources.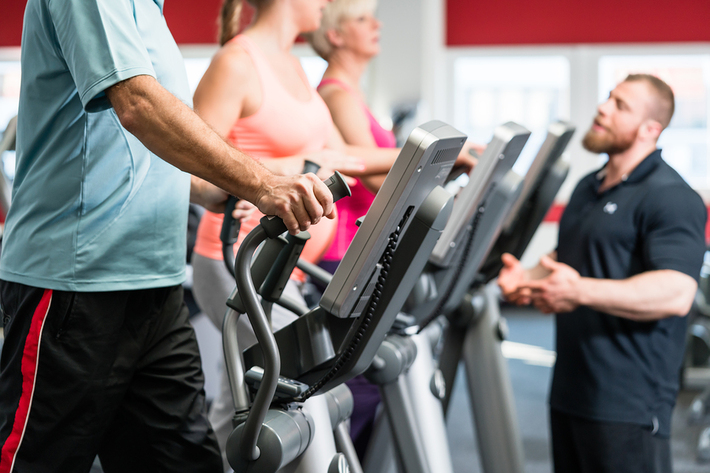 3. Give it a try.
Club Industry recommends trial classes as a form of market research. "If you pitch them to members as focus groups that will allow them to have a hand in shaping the class experience, you'll likely find enthusiastic participants. After the trial classes, survey participants to find out what they liked and didn't like. Ask specific questions: Did they appreciate whatever music and lighting effects accompanied the class? Do they have suggestions for improving the instruction? Did they like the warm-up segment of the class? The cool-down? What would they change if they could change anything?" recommends Club Industry.
4. Get the word out.
Once you've decided on the types of classes to offer, worked out the logistics, and tried them out, it's officially time to debut your new programming -- almost. First, you must get the word out! Using a variety of advertising, including everything from providing informative flyers to posting on social media, you can make sure members -- and prospective members -- are aware and incentivized to show up.
Adding machine-based programming to your gym's products and services is just one of many ways to build your fitness business. Another hot trend? Wearables. Download the catalog to learn more about the Accurofit system today.