Can Your Fitness Center Layout & Design Affect Your Business?
Anyone who's ever worked out in a cold, sterile, less-than-inspiring space knows that environment matters. After all, who can expect to stick with a fitness routine if they dread walking into the place most likely to support their health and fitness goals? The truth is that the design of your fitness center can make or break the member experience...not to mention your fitness center business bottom line.
Here's a closer look why design matters, along with four things you can do to make sure your fitness center is dressed for success.
What is Health Club Design?
The design of your fitness center conveys a message to your members and prospective members. Which begs the question: What message do you want to convey? The right layout can make or break the member experience by delivering a welcoming, encouraging and nurturing message. Conversely, inadequate or poor design can have the opposite by leaving visitors feeling underwhelmed, unimpressed and uninspired. In this sense, design becomes a powerful way to control and enhance the experience of members beyond the features your offer.
Acknowledging your fitness center's layout and design is particularly important in today's intensely competitive fitness landscape. As Bruce Carter, president of leading club design firm Optimal Fitness Design Symptoms International told Club Industry, "More attention is being put on design and décor than ever before. If a club is plain or average, that opens the door for a beautifully inspiring environment from a competitor."
Four Health Club Design Tips
1. Attract from the Outside In
Just because you shouldn't "judge a book by the cover," doesn't mean people don't. In reality, there's no substitute for a positive first impression and this all starts with your building's exterior. Great signage, lighting, and an easy-to-find and accessible entry all indicate the experience waiting within.
2. Lead with the Lobby
The same applies to the lobby, which is an extension of the initial member experience. Your guests should feel welcome every time they come to use the facility, and clean, well-lit, aesthetically appealing lobby cultivates this sensation. While not technically part of your design, friendly, approachable, and well-trained front desk employees add to the lobby's impression.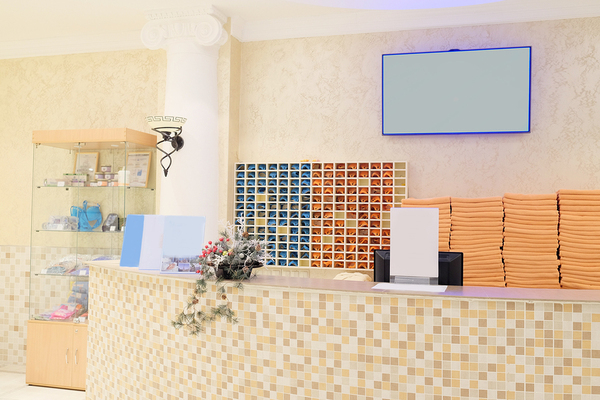 3. Keep Socialization at the Center
Different members have different reasons for joining a gym. In our increasingly social world, many are looking for more opportunities for interaction. From Wi-Fi and outlets to gathering spaces, there are many different ways to meet this demand. Swapping out rows of equipment for pods, meanwhile, further supports a social and organic vibe.
4. Minor Changes Have Major Potential
Can't afford a massive redesign at the moment? Small changes, including new brand-forward paint colors, lighting, floor finishes, and accent pieces, can liven up your space without blowing through your budget. Also, don't underestimate the value of a clean, clutter-free space when it comes to best showcasing your facility.
One last thing to keep in mind? Whatever changes to layout and design you make the member experience must remain at the forefront. As architectural firm for fitness, wellness, sports and recreation centers and spas Fabiano Designs president told Club Industry, "The top trend is the movement from an owner-centric delivery system to a member-centric concept. Meaning that the programming, sales systems, and member experience are being customized to meet individual member needs versus the general shotgun approach we used to take."
Another member-centric tool for today's forward-thinking fitness center businesses? Accurofit System. Download the catalog today to learn what it can do for you.