COVID and the Reinvention of the Fitness Industry
The fitness industry was enjoying a booming period prior to the COVID-19 pandemic. Since its arrival, however, things are now very different. Many fitness businesses were forced to shut down. Those that stayed open or reopened did so to a transformed world in which they had to make drastic changes in order to survive. This begs the question: How many of these changes are here to stay, and what will the fitness industry look like in a post-coronavirus world? Here's a closer look.
From Boom to Bust
The fitness industry was worth a staggering $94 billion in 2018, according to data from the International Health, Racquet and Sportsclub Association (IHRSA). Business was booming and showed no signs of stopping anytime soon. "Before COVID-19, both health clubs and home fitness had been enjoying steady growth driven by a number of trends that pointed to a continued upward trajectory," said Harrison Co. Proprietary Research partner Paul Byrnes recently.
No one could have predicted the impact that COVID would have on our world or the fitness industry, specifically. After shuttering their doors for months, fitness businesses have started to reopen. However, according to experts, hopes for a return to "normal" are misguided.
In addition to adhering to social distancing guidelines by changing up everything from class capacity to the physical layout of their spaces, gyms have also had to implement rigorous new cleaning and safety protocols, as well as new communication strategies aimed at facilitating staff and member trust.
Byrnes continued, The difficult economic circumstances currently faced by gyms and health clubs will not disappear once the crisis ends. Once stay-at-home guidelines are lifted, consumers will continue to work out at home in numbers far beyond anything we saw prior to the crisis."
Facts and Figures
A consumer survey conducted by Harrison Co. yields some eye-opening takeaways for gym owners, including the following:
34 percent of gym-goers plan to cancel their memberships after the pandemic adding up to the neighborhood of more than 20 million cancellations.
40 percent of gym-goers will have exercised at home for the first time due to the pandemic.
More than 500,000 fitness club employees were furloughed during the shutdown of more than 38,000 fitness businesses.
There's no denying that these numbers are disheartening. However, there's also some bright news. According to the same survey, 37 percent of gym-goers expressed plans to exercise more after COVID-19, with 50 percent of them said they were experiencing increased motivation to work out, resulting from a newfound appreciation for their health and wellness.
Adjusting to the Post-COVID World
Some of the major winners during the coronavirus have been equipment makers for the at-home sector, such as Peloton, Inspire, and Bowflex. According to a report from CNN, meanwhile, online-only fitness services have also come out ahead. This doesn't mean that brick-and-mortar gyms are out of luck. Rather, that continued creative thinking and approaches are in order.
Many gyms and health clubs turned to streaming fitness content to continue to help their members reach their goals. According to Byrnes, this will continue to be an important trend. "The pandemic has clearly accelerated working out from home. Post-COVID, fitness companies will have to respond to the recasting of the competitive landscape by utilizing the convenient, compelling, and immersive strategy of streaming," he said.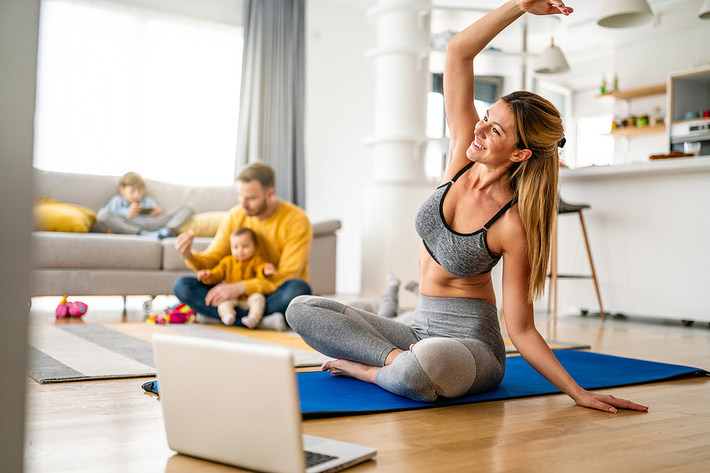 In an article for Medium, author and entrepreneur Steve Glaveski took a closer look at what the fitness businesses could expect moving forward. After breaking down members into five different types, his conclusion was that gyms could expect a slow recovery for a variety of reasons, including everything from financial hardships to fear. He suggests discount memberships and other incentives, increased marketing efforts, online programming, and rethinking of social distancing and cleanliness as member retention and recruitment methods to counter the downward trend.
Survival of the fittest is not a new concept, and it is one that will prove itself true yet again in the post-COVID world, according to Glaveski. "Gyms who can reorganize around the new realities — smaller market, more hygiene concerns, less disposable income, pervasive laziness, the resilience of specialist offerings — will be more likely to succeed," he contends.
In addition to offering members peace of mind, fitness businesses should also do everything they can to give members what they want. Enter fitness monitoring technology, a recurring top trend in the fitness industry. To learn more about what the NEW AccuroLIVE Virtual System can do for your fitness business, request a demo today.