Fitness Business Locker Rooms: A Key to the Member Experience
When you talk about the member experience, you often talk about equipment, programs, services, and people. But there's one aspect of cultivating a positive member experience that often goes overlooked: the locker room. Here's a closer look at why your fitness business locker room matters, and what you can do to make yours a selling point for member retention and recruitment.
Locker Rooms as Luxuries?
Locker rooms aren't just a place for people to change their clothes and store their belongings while they work out. Rather, they're part of the overall experience. They're also part of how members and prospective members view your brand. If your locker room is not aligned with how you want your gym or health club perceived, then you're falling short, especially given the effort your competitors are putting in.
Interior designer David Phillips told Club Industry of the trend, "Locker rooms have pretty much stayed the same for a very long time, and they've been very similar in feel and look. Now, we're looking to explore the spa component and create a spa-like feel."
The takeaway? Rather than looking at locker rooms in terms of the bare necessities, view yours as an opportunity to make your members want to keep coming back. This begins with making sure there are enough lockers for your members, as well as ample space. Cleanliness and security are also imperative. But there's much more to it than that. Today's members are looking for something more: an emotional connection.
Health and fitness club owner Brad Wilkins told Club Solutions of his locker room redesign project, "Our goal was to create a high-end look, feel, and experience similar to a five-star hotel. We wanted architectural design elements in both wet and dry areas, high-quality interior finishes, high-quality lighting appropriate for each area, and custom-made furniture in lounge, vanity, and changing bay areas."
Big Impact, Small Budget
But giving your locker room a high-end feel doesn't have to come with a high-end price tag. Explains Club Industry of one locker room redesign that came in under budget, "The architects saved money by trading real wood lockers for oversized laminate lockers that look like wood, choosing European porcelain ceramic tiles that mimic expensive stone and installing posh white quartz countertops. These trade-offs allowed the firm to splurge on other locker room details, such as glass shower doors."
This is especially important, say designers. While compromises are fine in some areas, stick to the features you really want, even if it means financing.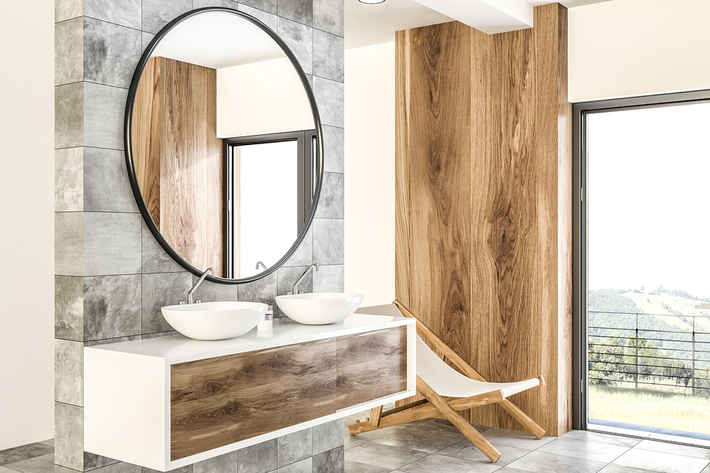 Phillips also points out that gyms are also starting to customize locker rooms to suit each gender. For example, while women favor a "lounge-like atmosphere" with comfortable seating, vanity space, and larger showers for privacy, men may prefer a more "masculine, country-club look" with features ranging from plasma TVs to personal shaving stations.
For both men and women, don't underestimate the value of a good shower. Spa-like features, such as steam showers and rain showerheads, are popular and can also serve the function of loosening tight muscles. Even stocking locker rooms with basic amenities, such as large shower towels and lotion, can go a long way toward showing members that you care while costing relatively little.
One last thing to keep in mind while planning your locker room redo? Advises Phillips, "If you're making the locker room a part of members' daily routine, you want them to decompress in the locker room. Give members an opportunity to change their clothes and feel good. If they feel pampered when they left, then they're coming back."
Another way to show members you're invested in them is to incorporate wearable technology in your gym. Request a demo today to learn more about Accuro's innovative fitness monitoring equipment.