Fitness Club Design: How to Appeal to Clients Today and Tomorrow
The design decisions you make for your fitness center can have a major impact on the member experience. After all, the right design elements can not only impact how your members exercise but also how they feel while exercising -- both elements that are vital to member retention.
Wondering where to begin when it comes to designing your health club to optimize outcomes in terms of both form and function? Here's a closer look at five aspects to keep in mind.
1. Don't underestimate the importance of open space.
One common complaint among health club members? Overcrowding. Because while your members don't want to wait in a line to use equipment, they also value personal space when working out. This can lead to a design challenge for health club owners.
Says Athletic Business in highlighting lack of open space as one of the most common health club design mistakes, "Please, we're begging you, throw something out, especially when you bring in new equipment. This will help you address the now-common need for open floor space for functional training, and doing so will make your facility more pleasant to look at. We know that eliminating old equipment will bother some of your existing members — it always does — but please embrace free space."
2. Create "clubs" within your club.
If your health club is a multipurpose facility that incorporates niche programming, such as cycling or yoga, consider creating a "club within a club." Explains Club Industry, "This could mean carving out a special space for a cycling studio or developing a new group training area complete with a robust class schedule."
Design firm president Hervey Lavoie explains of going this route, "We see some successful club owners opting out of bringing in an outside boutique franchise and choosing rather to develop their own elite branded identity for yoga, cycling, CrossFit, barre, etc., and giving the studio its own unique esthetic as if it was an independently branded destination. For both styling and function, this approach makes generic, multipurpose studios in large clubs a thing of the past."
3. Light it up.
Does your health club feel sterile or institutional? Or perhaps there's just something "off" about it? If so, this may be because lighting is about more than making it easier see; it's also about setting a mood, facilitating energy or calm, and creating ambiance. Therefore, changing up your lighting can make a huge difference -- especially if you go with dynamic lighting. Unlike static lighting, dynamic lighting adapts throughout the day to ensure that the space is always perfectly lit.
Interior designer Robert McDonald told Club Industry, "If your facility hasn't upgraded the lighting in 10 years or more, a lighting replacement strategy can be a wise investment and a real game-changer in terms of design."
4. Focus on flooring.
Carpeting may seem like an easy way to go, but it can also have an unappealing, industrial effect. Not only that, but it can also be hard to clean if you go with a uniform color. On the flip side, while patterns can hide stains and signs of wear and tear, they can also look fussy and/or dated.
Enter high-density synthetic sports floors. Recommends Club Industry, "The best choice of flooring for most studios, especially for those offering sports performance and functional training activities (e.g., tires, ropes, kettlebells, free weights, and resistance machines) are high-density synthetic sports floors. These floors are made of high-density foams and rubbers, coming in a variety of colors and thicknesses. They also come with a moisture barrier backing, so if your slab is in a high humidity area, you do not have to provide an additional vapor barrier."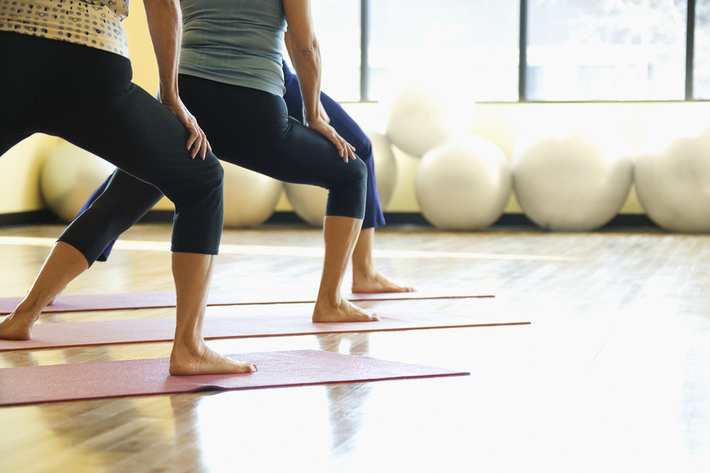 A few exceptions to this rule? Group exercise classes, such as yoga and barre, which work best with all-purpose wood athletic flooring.
5. Factor in technology.
Technology is no longer optional for gym-goers. Rather, experience-driven technology, including everything from oversized digital screens to activity tracking, is now an expectation. Says IHRSA of the role technology will play moving forward, "This connectivity and feedback loop are only going to increase. When your members walk through your doors, they're no longer leaving their world behind. They're bringing it with them."
Adds Carrie Kepple, IHRSA board member, "We need to start creating seamless synergy between our old school way of operating and the new school way our customers navigate the world."
One last thing to keep in mind? According to Kepple, "Redesigning member experience is about their needs, not yours…" The same logic applies to designing or redesigning your fitness club.
Request a demo today to learn more about how Accurofit can help support your health club design on the technology front.