How to Boost Member Retention with Group Exercise
Face it. You spend a lot of time trying to attract new members. You advertise, you offer special promotions, you give discounts, and you spend time at community events schmoozing with as many people as possible to get your gym noticed.
The question is: "What are you doing to ensure that the members you already have will stay?"
One of the most effective ways to boost member retention is to offer group exercise classes.
Why Group Exercises Work for Members
When members first sign up, they have every intention of coming to the gym on a regular basis to accomplish whatever fitness goals they have. Soon, however, reality sets in. Motivation declines, life gets in the way of best intentions, and members may start to think about whether it makes sense to maintain a gym membership.
Group exercise halts that progression. People who lack the motivation to go it alone on the exercise floor may exercise enthusiastically when surrounded by others who are exercising as well. Enthusiasm is contagious. Your gym is the perfect place to catch it.
In addition to the regular benefits of exercise, group exercise offers other significant benefits to members. Active.com's
3 Reasons It's Better to Work Out with a Group
lists the top three benefits as:
Motivation
Accountability
Group camaraderie
How Group Exercise Works for Your Gym

A key component of member retention strategy is keeping members engaged by providing something of value or interest in your gym. While there will always be hard-core members who will come to the gym, regardless of any obstacle they must overcome to get to you, for the most part, these members are in the minority.

Most of your members likely need a little extra motivation. When group exercise classes are offered, you can engage gym members who may be inclined not to exercise alone. Large group classes allow these members to "slip in" unobtrusively and reap the benefits of exercise in a friendly group setting.

Group classes engage another type of gym member: The social butterfly. Outgoing and friendly, they may find solo exercise to be boring. However, group classes provide them with a place to make friends while getting fit.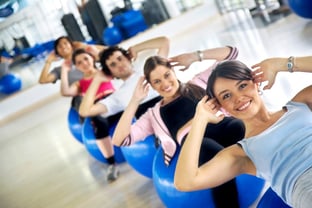 The social aspect of group classes works especially well for member retention strategies. When members feel like a part of a unit, they are more reluctant to drop their memberships because it will mean saying good-bye to other members. Very few people really like to say good-bye.

Elements of a Great Group Exercise Program

Offering group exercise classes is a formidable weapon in your arsenal to fight gym membership cancellations, because it is so versatile. You can appeal to virtually every type of gym member with one class or another. Here are the key elements of a successful group fitness strategy:
Offer a wide variety of classes to appeal to a broad range of members.
Ensure that your fitness instructors are well-trained, friendly, and enthusiastic about their jobs.
Use equipment that sparks interest and provides a state-of-the-art feel to your classes.
Vary class schedules to make popular classes accessible to the largest number of members possible.
Educate members about classes and advertise new and exciting developments as you go.
Class Variety and Scheduling
While some classes are perennial favorites, like Zumba, yoga, and cardio, consider adding currently trending classes to the schedule when you can do so.
Tailor classes to different segments of your member base. For instance, to appeal to senior members, you may want to offer low- or no-impact cardio and strength training classes. Scheduling these classes mid-morning should work well with the schedules of retirees.
A growing trend in group exercise is catering to the special needs of men. High-intensity, interval training in a group setting is appealing to an increasing number of men. According to Men's Journal's
Strength in Numbers: The Rise of Group Fitness Classes for Men
, these classes work well because they encourage healthy competition and challenge participants to give their all.
The Right Equipment Bolsters Group Classes
Providing state-of-the-art equipment will help keep group fitness class enthusiasm high. Accuro's in-studio solution is designed for fitness classes ranging from Spin Classes to Group Training. With Accuro's equipment, your members can review their past performance, track their current performance and health data, and get rewarded for working out.
Group fitness with Accuro products will help you engage, motivate, and retain current members. To see how Accuro will work for your gym,
request a demo of the AccuroFit system
today.