Keeping Up with the Latest Cardio and Strength Equipment Trends
The fitness landscape is constantly changing. The imperative for gyms, health clubs and studios looking to survive and thrive? Keeping up with the changes. In addition to offering in-demand programming, products, and services, this also means outfitting your gym with the equipment that will help your members reach their fitness goals while simultaneously supporting your fitness business's bottom line.
A recent report from Club Industry, "Cardio and Strength Equipment Trends, Technology, Purchasing and Maintenance," makes it easier than ever to understand the trends and put them to work to your advantage. Here's a closer look at key findings from the report.
The Evolution of Exercise
"The fitness industry is forever evolving, driven in part by the perpetual emergence of new ways of exercising. New equipment, new exercise classes, new research, new customer preferences – perhaps no field is as obsessed with what's new and, even more importantly, with what's next," proposes Club Industry's Tom Gresham.
The challenge for fitness business operators is walking the line between getting on board with trends and remaining true to what will endure. Asserts Matrix Fitness vice president of strategic business, development, sales-commercial Phyllis Dannin, "When talking about trends, it's important to distinguish influences that shape an industry from fads that fade away."
Translating the Ethos to the Trends
One trend that appears to be here to stay is a strong preference for group-based exercise. This also means stocking up not on large-scale equipment used during individuals workouts, but on accessories. In fact, according to ClubIntel founders Stephen Tharrett and Mark Williamson, five of the top 10 equipment trends fall into this category: foam rollers, suspension training equipment, flexibility/mobility equipment, and traditional and non-traditional functional equipment training.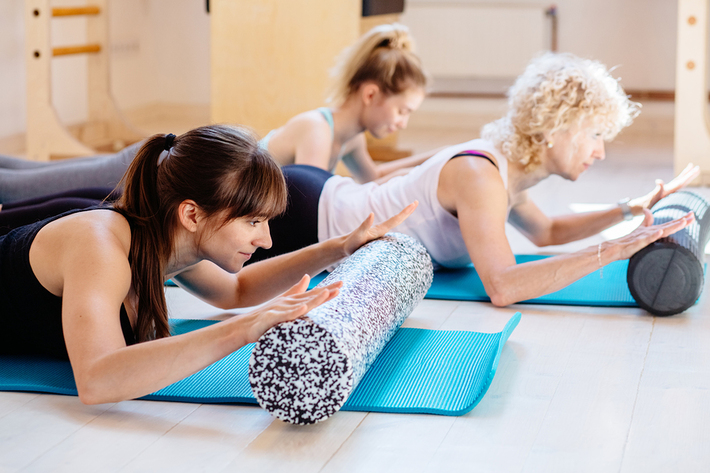 Given the push for functional training, the report also underscores the value of fitness monitoring technology and wearables -- especially in today's era of personalization and customization. Precor director of product management Adam Hubbard told Club Industry, "Exercisers are expecting more personalized fitness experiences as they have become accustomed to in other parts of their lives...They bring these expectations to the gym and want equipment that can provide personalized media, workout guidance and visualization. Operators are demanding more data and insights to improve equipment utilization and better engage with their members." This makes sense, after all: the more fitness owners and managers know about how members are using the gym, the better they can endeavor to support their ongoing satisfaction.
Not only is the technology present, but it should be pervasive. "Imagine an immersive, personalized exercise experience that extends into every space of a health club and beyond," says Club Industry. This is more than what members want; it's what they expect." Again, this benefits owners as well as members. "For club operators, a fully connected club could be the key to understanding how members move through the space and when users decide to end their workout or continue to exercise," the report continues.
Mainstays Still Going Strong
It's also important to note that while accessories are on the rise, the demand for traditional cardio and resistance equipment, such as treadmills and resistance machines, remains. However, there's a catch here, too. Today's machines are expected to do more to keep members happy. "If selectorized equipment is to maintain relevance, it will likely need to leverage AI, AR and streaming content. It will also need to build on functional movements," Tharrett and Williamson reveal.
The report also stresses the importance of prevention when safeguarding your cardio and strength equipment investment -- especially when expenses like downtime, lowered customer satisfaction, and decreased member retention can be crippling. Because of this, many gyms are turning to maintenance contracts and service agreements for peace of mind. "When a club owner invests in equipment service plans, they are showing members that safety is the top priority, while also reducing the chances of surprise costly repairs," concludes the report.
Ultimately, your fitness business relies on the satisfaction of your members, and the satisfaction of your members relies on keeping up across a number of key measures, including equipment. There's no better example of this than the wearables imperative. Download the catalog today to learn more about how the AccuroFit System is a win-win for fitness businesses and their members.