Lessons Learned from the Planet Fitness Transgender Lawsuit
Running a fitness business is complex, and growing more so by the day.
One of the latest challenges faced by contemporary health clubs? Navigating transgender issues -- particularly pertaining to locker room policies. Is it possible to satisfy, respect and protect all of your members while simultaneously staying within the bounds of the law? Here's a closer look at a recent lawsuit against Planet Fitness, along with actionable insights for gym owners facing similar situations in their own facilities.
Planet Fitness: A Case Study
The State of Michigan Court of Appeals recently rejected a claim by gym-goer Yvette Cormier asserting that Planet Fitness had endangered her privacy and wellbeing by allowing a transgender woman -- whom Cormier thought was a man at the time -- to use the woman's room at the health club. This ruling was consistent with the dismissal of the initial lawsuit filed in 2015, which Cormier had appealed.
On what grounds was the case rejected?
"Transgender rights and policies are polarizing issues and each individual may have a feeling on the issue and on what locker room such individuals should be using. Regardless of whether an average member of the community may find the policy outrageous, the fact is that plaintiff did not suffer severe emotional distress as a matter of law."
According to Planet Fitness Public Relations Director McCall Gosselin as reported by Club Industry, "the company's non-discrimination policy states that members and guests may use all gym facilities based on their sincere, self-reported gender identity."
In fact, not only was Cormier's case rejected, but Planet Fitness also terminated her membership. Said Gosselin, "The manner in which this member expressed her concerns about the policy exhibited behavior that management at the Midland club deemed inappropriate and disruptive to other members, which is a violation of the membership agreement, and as a result, her membership was canceled." (This action on the part of Planet Fitness was also unanimously deemed justifiable by the court.)
Key Takeaways for Gym Owners
There's no arguing that policies about transgender locker room use can be tricky territory for health clubs -- especially given that laws addressing the rights of transgender people are constantly changing, vary from state to state, and land on both sides of the issue. While protecting transgender people from discrimination is imperative, the reality is that there are some situations in which people may feel uncomfortable dressing and undressing in close proximity to someone with the anatomy of the opposite sex.
However, many people insist that middle ground can be found. According to this fitness center advice from Jennifer Levi, attorney and director of the Gay and Lesbian Advocates and Defenders Transgender Rights Project, "One way people generally address privacy issues is to provide private spaces for anyone who wants to use them."
Ruby Fabiano, president of Fabiano Designs, reiterated the popularity of private spaces in an interview with Club Industry, "We have been including private changing rooms in most women's locker rooms for some time now and have recently seen the trend extend to men's locker rooms, also," he said. "To accommodate special groups, we do try to push for at least one private toilet and shower room in every club."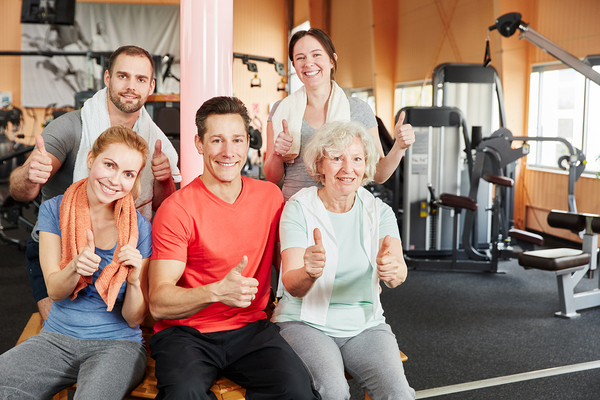 And added benefit? These separate changing areas may also offer a fitness center growth opportunity in pleasing other members who may also be seeking more privacy.
Regardless of personal attitudes on the subject, as well as the lack of federal legislation, many states have regulations of their own pertaining to transgender lock room access. Educating yourself and your fitness center business staff about these can ensure that you remain compliant and invulnerable to legal action.
It may also be helpful to keep in mind that this is not the first time in history when bathroom/locker room access has been an issue, and it likely won't be the last. As Delta College and Saginaw Valley State University professor Charin Davenport told the International Business Times, "When things like this happen, this is an opportunity for a dialogue to take place. This is going to play out all across this country," she said. "As a society, how do we handle these issues?"
For more ways to serve your fitness center members, learn more about Accurofit today.