Make Your Gym Fit for the Whole Family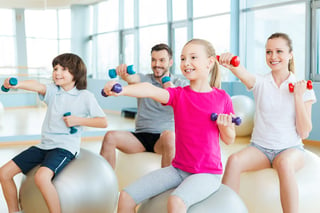 Family, the core unit of society, is under attack. Modern culture seems designed to pull families apart. With the frenetic pace of everyday life and the distractions afforded by modern technology, families have to fight to stay together and to stay fit.

That's where you come in. By opting to specialize in fitness for the whole family, you can do your bit for society while improving your bottom line for your fitness center at the same time. What could be better than that?
Fitness Marketing to Families

Making your fitness center family-friendly involves a little creativity and forethought. As a gym owner, you have to toe the line between encouraging whole family participation and keeping the atmosphere of your gym inviting for those without families or those who prefer to exercise solo.

Here are some tips to help you maintain that balance, tap into the family fitness movement, and keep all your members engaged and coming back for more:

1) Designate special family areas or sponsor special family nights.

If your floorplan allows, the easiest way to maintain a balance between family-friendly options and space for the solo exerciser is to designate separate spaces in your gym for family activities. That way, mom, dad, and kids can all work out together, while loner Joe and Jane do their own thing in another area.

If your space is limited, designate certain nights or weekends as family-friendly. Promote these special family times well by signage in your gym and by emails and newsletters. Ensure all gym member are aware of these opportunities for family bonding.

2) Consider providing child care.

Some families are not looking to work out together. Rather, they want a safe area for kids to play while the adults work out. Having a child care center in your gym can be a big draw for such families. In many cases, the child care area pays for itself in terms of increased memberships and retention of existing members.

For best results, make the child care area an exercise-friendly zone, where kids of all ages can move about and enjoy the benefits of healthy physical activity.

3) Provide quality exercise time for kids.

The CDC recommends that kids have at least 60 minutes of physical activity every day. With that in mind, arrange for kid-friendly aerobics classes or adolescent physical fitness bootcamps.

Be sure to promote these opportunities well with appropriate health club marketing techniques. Let gym members who are parents know when classes will be held, and offer discounts and perks for families who sign up for them.

Other popular ideas for kid-friendly gym events are things like:
dance classes
baby yoga
swim classes and competitions
4) Sponsor family-friendly community events.

Promote family physical fitness and social responsibility at the same time by sponsoring charity walkathons, health fairs, and so on. These events also serve to keep your gym at the front and center in the minds and hearts of the community, which will result in more memberships and better retention for existing gym members.

5) Sponsor fun-filled family competitions.

Whether it is relay races on the indoor track, potato-sack hops on the lawn, or shooting hoops on the court, design competitions where families can go head-to-head with other families at the fitness center. This fosters a sense of shared purpose within each family, and a feeling of community within your gym. As your member families interact with each other, the likelihood of retaining both families as members grows.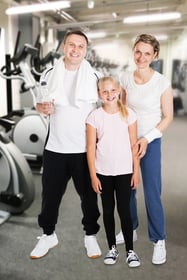 Fit Families = Happy, Lifelong Gym Members

Encouraging family fitness in your gym is a win-win situation. It provides health benefits both physically and emotionally to families, and promotes member retention for your gym.
The AccuroFit system offers products to suit the needs of everyone in the family. With club solutions that integrate fully with the AccuroFit line of products, the entire family can easily keep track of fitness goals and progress. To see what AccuroFit offers for your gym members, download the AccuroFit catalog today and set your gym on a course for success and growth.