Six Fitness Business Cleaning Tips
Gyms are full of hard-working people. This also means sweaty bodies…and the germs that go with them. While the importance of maintaining a clean fitness business operation is nothing new, cleanliness means even more in the wake of the COVID-19 pandemic. Read on for a roundup of six tips aimed at helping gyms protect the health and wellness of their community members while instilling peace of mind.
1. Take advantage of the resources available to you.
All reputable fitness businesses will have had cleaning practices and processes in place prior to the coronavirus. However, the current climate calls for heightened attention to the issue.
The good news? You don't have to do it on your own. Many authoritative organizations have prepared tools and resources aimed at helping businesses like yours navigate the times ahead, such as the CDC's Reopening Guidance for Cleaning and Disinfecting and Cleaning & Disinfecting Decision Tool and your state or government guidelines, such as Wisconsin's Guidance on Preparing Workplaces for COVID-19.
2. Stock up on the right cleaning and disinfecting products.
All cleaning and disinfecting products aren't created equal. In order to ensure the best defense in mitigating the spread of COVID-19, use only disinfecting products included by the Environmental Protection Agency (EPA) on its list of products that meet its criteria for use against the virus that causes COVID-19, SARS-CoV-2.
Make sure you have all of the cleaning products you need before opening, including an adequate inventory for maintaining your cleaning protocols.
3. Know your terminology.
Many people use the cleaning-related terms "cleaning," "sanitization," "disinfecting," and "sterilization" interchangeably. However, they are different processes with different purposes. Learning the difference can help you make sure you're going about things the right way.
Cleaning is the first step, and refers to removing dirt, germs and other impurities prior to disinfecting; sanitization, which is identified on a product's packaging, refers to reducing bacteria; disinfecting refers to eliminating pathogenic microorganisms, which removes most surface contaminants; and sterilization, which is the act of destroying viruses, bacteria, fungi, and all other forms of life. (Sterilization may or may not be appropriate for your health club or equipment.)
4. Devise a cleaning plan.
The best way to make sure your health club is meeting the necessary standards for cleaning? Create a disinfection plan. This may include itemizing all aspects of the gym that need to be cleaned, including surfaces, equipment, and areas; prioritize the cleaning of doorknobs, bathroom facilities, and other high-touch surfaces; cleaning and disinfecting all equipment after every use (and building in time for this cleaning, as well); and creating a cleaning schedule for the facility and equipment.
This is also an opportunity to consider how you can change how equipment is used in order to save time without compromising safety. For example, a class may be adapted so that equipment is never used by multiple participants.
5. Educate and train your staff.
Your staff are invaluable partners in the process of keeping your fitness business clean, as well as in demonstrating to members your club's commitment to their safety. Your entire team needs to understand the procedures, the importance of adhering to them, and the repercussions for failing to follow them.
The National Association of Sports Medicine (NASM) sets forth five cleaning steps which all staff should be trained to follow. These include washing their hands before cleaning; wearing Personal Protective Equipment (PPE) while cleaning; wiping in the same direction to prevent back-and-forth contamination; allowing disinfectants to remain on the surface for the full time designated by the manufacturer; and washing hands and disposing of all PPE and cleaning materials after finishing the job.
6. Educate and train your members.
Members can also play a role in keeping your fitness facility clean. According to NASM, sharing these three easy steps with them can make them partners in the effort: covering equipment with a towel when in use to create a barrier between the equipment and the user; wiping down the equipment with a disinfectant wipe or clean towel after every use; and washing hands after working out.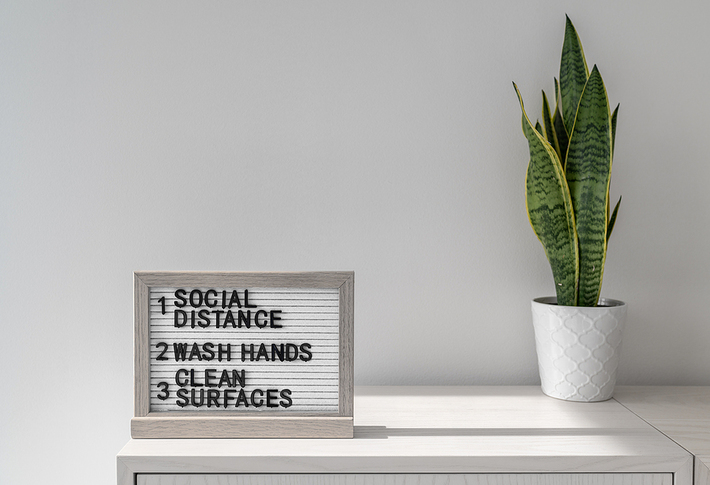 Communication is an essential part of this process. Putting up signage in your gym instructing gym-goers about cleaning protocols not only serves as a helpful reminder but also supports member retention by demonstrating your commitment to the wellbeing of your community.
One last thing to keep in mind? While upgrading your cleaning procedures may seem like a significant investment of time and effort, it's a worthwhile endeavor. Even after the current pandemic resolves, these rigorous standards are likely to remain as the "new normal" as organizations adopt more proactive stances to mitigating future outbreaks. Speaking of the future of the fitness business, fitness monitoring technology will be a part of whatever's next. Download the catalog today to learn what the AccuroFit System can do for you.