Six Key Soft Skills for Personal Trainers
We addressed the importance of certain hard skills for personal trainers in an earlier blog post. Equally important for fitness business workers is a core set of soft skills. Read on for a roundup of six soft skills that can help your trainers succeed in their jobs with more satisfied clients and a better bottom line for your fitness business.
1. Passion
Personal training isn't just a job. For the most successful trainers, it's a calling. Personal trainers who are driven by a personal passion for fitness are especially good at motivating and inspiring others. This can help clients tremendously in staying on track toward their goals. Passion is also a self-motivating factor for trainers because passionate trainers are more driven, work harder, and are likely to bring in more revenue. Moreover, passion also increases the chances that fitness trainers are keeping up with the latest industry news and trends, such as wearable technology.
2. Empathy
Everyone has different challenges and struggles. The ability to see things from multiple points of view uniquely qualifies trainers to understand their clients in order to create the fitness plan most likely to help them succeed. Conversely, fitness trainers who lack empathy may make their clients feel judged which in turn can erode not only the member's relationship with the trainer but also with your fitness business.
3. Communication
Trainers are only as effective as their ability to communicate. If your personal trainers are unable to express themselves in a compelling and compassionate way, they're unlikely to be successful at engaging clients. Communication doesn't just mean talking, however. It also means listening. The ability to truly hear what clients are saying can help personal trainers ensure that the various concerns of clients are being heard and met.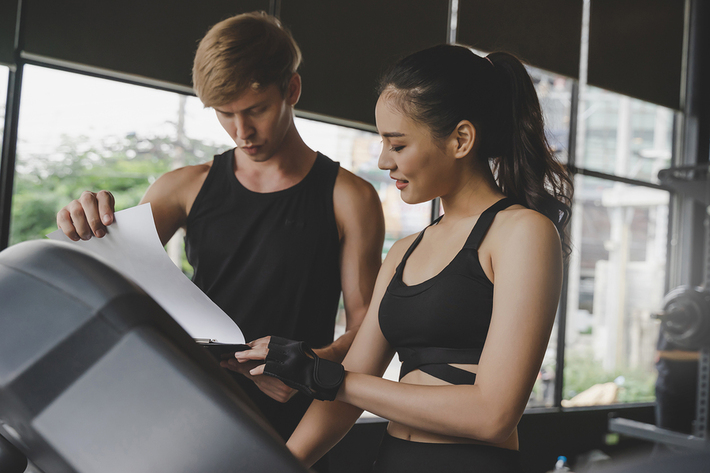 4. Friendliness
Even the most qualified trainer will not help your member recruitment and retention initiatives if they lack one basic characteristic: friendliness. A smile can go a long way toward helping someone feel comfortable -- especially someone in an unfamiliar environment or uncertain situation. The gym can be an intimidating and overwhelming place for newcomers. Fitness trainers can play a critical role in welcoming them in a way that makes them feel at home. Additionally, friendly trainers can also serve as ambassadors for your gym -- both on and off-site.
5. Patience
People don't always behave the way others want them to. Even exercisers with the best of intentions may fall short with their goals. Again, shaming does nothing to help build relationships between members and gyms. A patient trainer can help build morale, change client attitudes, and encourage members to pick themselves up and keep going toward their goals.
6. Organization and Time Management
Personal trainers work with many different clients simultaneously. This requires countless individual tasks, including everything from scheduling clients to drawing up fitness plans. Lack of adequate organization and time management skills can interfere with their ability to stay on schedule and to meet the needs of their clients in the most effective way.
The right employees can play a critical role in supporting the success of your fitness business. Hiring qualified talent and training them well can help ensure that your team is best prepared for success. Are you looking for other ways to position your fitness business for optimal outcomes? Download the Accuro catalog today to learn what our fitness monitoring technology can do for you.