Take the Routine Out of the Fitness Routine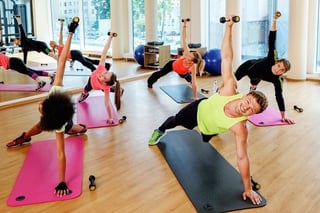 Of all the challenges that fitness club owners have, the one that is often the most troublesome is the steady exodus of gym members over time. While January's membership stats may look pretty darn impressive, by July the membership list has often dwindled down to a pitifully small number.

When gym goers decide to drop their memberships, they may give reasons such as:
I can no longer afford the fee.
I just don't have time to get to the gym anymore.
I just don't feel like I'm getting good results.
All of those things may, indeed, be reasons people leave your gym. However, the hard truth is that often the real reason people leave a fitness center is something much worse ... boredom.
The Business of Blah

Think about your average new gym member. He or she comes regularly, perhaps even several times a week. At first, the newbie tries out a number of machines and tries to figure out the equipment. He or she may experiment with coming at different times, taking a few classes, and maybe even having a session or two with a personal trainer.

However, if you observe your new members over time, you will see that they fall into a routine. They end up working out on the same machines, taking the same classes over and over, and usually just ignoring the personal trainer option after a while.

In other words, they get stuck in a rut, which leads to ... boredom.

Sadly, the same malaise may be affecting your trainers, your support staff, and even you as the fitness center owner. What can you do to shake things up and get everyone back on track and motivated to move?

Here are some suggestions to jumpstart everyone's enthusiasm and help retain your members:

1) Energize your trainers.

ClubIndustry.com's "Increase Your Health Club's Revenue by Energizing Your Personal Trainers" observes: "Trainers know about body mechanics, fitness and how to improve human physical performance, but most of them do not know how to run a business and sell."

That means that it is your responsibility to show your trainers how to market their services to your gym members more effectively. Some possible ways to accomplish this include goal-setting with each trainer about sales objectives and how to meet them, and setting up a friendly competition among trainers for the most sales monthly or quarterly.

2) Offer a variety of classes.

The article "10 Gym Advertising Promotions to Sell More Gym Memberships" offers this advice:
"Offering a variety of classes is the easiest way how to improve your gym business. Giving clients more options, you'll increase the chances that your members will stay engaged and continue to pay your monthly membership fees. Increasing gym revenue is about getting the most gym members possible. If you aren't offering a class for every type of client, you're losing business."
Be creative in your choice of class offerings. By looking at the demographics of your members, you can figure out which classes will have most appeal. Do you have a large number of seniors on your roll? Try offering water aerobics, senior Zumba, and yoga. Are there many young mothers among your members? Offering Mommy and Me classes might be a big draw.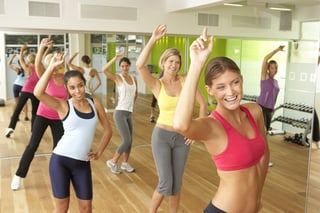 3) Consider mini-trainer sessions.

Arranging small group fitness training so that each personal trainer can interact with more members personally serves several purposes. First, it gets members involved in something a bit different from their normal routine. Second, it helps personal trainers interact with a wider variety of members, giving the trainers more opportunities to set up one-on-one training sessions. Third, it increases camaraderie among gym members, which is a sure way to promote increased member retention over the long run.

4) Provide equipment that prompts engagement.

Use the growing trend of fitness wearables and mobile apps to keep your members engaged both inside and outside the gym. For instance, AccuroFit's club solutions include a mobile app which integrates seamlessly with the AccuroFit equipment in your gym. What could be better for member retention than having an app that reminds your members of your gym right on their smartphones all the time? The AccuroFit mobile app keeps members engaged and enthusiastic about your gym, and gives the boot to boredom.

The Bottom Line

Your greatest enemy as a fitness club owner is boredom. Keep your trainers engaged and enthused by regular goal-setting and progress checks. Keep your members engaged and enthused by offering a variety of exciting classes and mini-trainer sessions. Keep everyone excited by choosing the right equipment and offering the AccuroFit mobile app.

Are you ready to take the routine out of the fitness routines you offer? Request a demo of the AccuroFit system and rev up your retention strategies today!