The Complete Guide to Cleaning and Disinfecting Fitness Business Equipment
The COVID-19 pandemic has drawn attention to the importance of prioritizing cleanliness for fitness businesses. However, this has always been a good business practice -- especially when you factor in that a staggering 90 percent of members say they're more likely to renew their memberships when clubs maintain high standards of cleanliness, according to an IHRSA survey.
Wondering whether your gym or health center is doing everything it can be doing to keep your equipment clean and your members safe? This handy guide is designed to help gyms adopt best practices for cleaning and disinfecting equipment.
Sweating the Small Stuff
Keeping a gym clean is no small endeavor and should be a top-of-mind business imperative. Unfortunately, it can sometimes be overlooked when there are greater fires to put out. This can not only lead to member dissatisfaction, but can ultimately hurt your reputation and your bottom line. The first step to making sure your fitness business meets and exceeds your members' expectations? Set a high standard and stick to it.
Remember: It's not just about how clean your gym is, but also about your members' perception of your gym's cleanliness. In committing to keep equipment clean throughout the day, you're not only ensuring that your facility and equipment will be pristine, but also that your members will recognize your above-and-beyond efforts.
Tips for Cleaning Gym Equipment
Fitness equipment in a busy gym transitions from person to person. If members don't thoroughly wipe down equipment between uses, who's doing it? Of course, it's not possible for your fitness business staff to wipe down machines and other equipment after every use, but the more consistently you clean and sanitize equipment, the more you'll prevent bacteria from accumulating and festering.
A thorough wipe down with a disinfecting wipe goes a long way. It's also important to note that cleaning and disinfecting are two different things: Disinfectant actually destroys bacteria and germs lurking in body fluids such as saliva and sweat. In addition to wiping down the full surface of a piece of equipment, allow time for it to dry, as well. This ensures that the disinfectant will have time to do its job. The longer a cleaning solution sits, the more effective it is.
While wipes are a valuable defense against bacteria and germs at the gym, they're just one weapon in the fight for cleaner equipment and a cleaner gym. Your staff should also use an ammonia-based solution to spray down machines on a regular basis. Specifically, this should be quaternary ammonia, which not only kills germs, but is also safe to the touch.
Lastly, if you're looking for the best cleaning materials, seek out EPA-registered antibacterial products as these are safe and effective.
In addition to wiping down and spraying machines, it's also important to regularly dust all equipment and to vacuum around it as well. Keeping a machine free of oil, dirt, grime, and debris can also support performance while extending its useful life.
And don't forget about the smaller equipment, too. Dumbbells, exercise balls, yoga mats, and cardio equipment all come into contact with members and should be cleaned daily.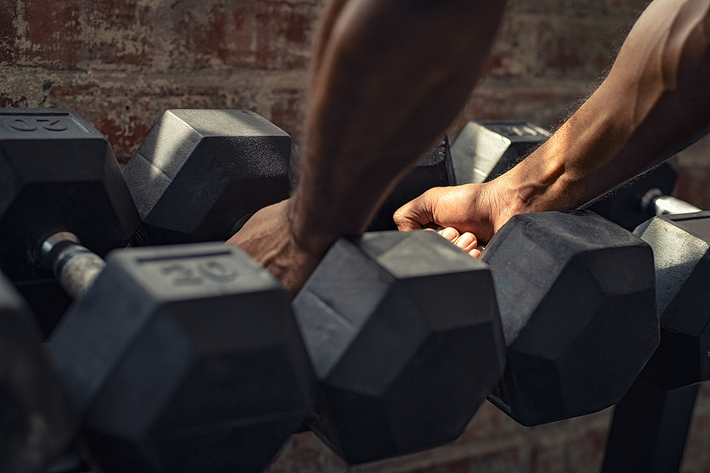 Employee Engagement Matters
Whether or not you outsource your fitness business cleaning or use your own staff, every member of your team -- whatever their role -- should be part of the effort. Specifically, IHRSA suggests five steps to get everyone on the same page, including the following:
1. Make sure everyone understands why club cleanliness matters.
2. Communicate and reinforce cleaning protocols.
3. Schedule and conduct routine inspections.
4. Make staff personally accountable.
5. Encourage members to take on roles as advocates for cleanliness in your fitness center.
Speaking of members, they should also be enlisted as active participants in helping to maintain the cleanliness of your gym and equipment. Put up signage reminding them to wipe down equipment after use, provide ample towels and sanitizers by machines, and make sure trash bins are present and visible throughout the gym. The more accessible cleaning items and trash receptacles are, the more likely members are to use them.
At the end of the day, it's impossible to make gyms completely sterile environments. However, it is possible to make sure you're doing everything you can do to make your fitness equipment as safe as possible -- and to make sure your employees and members are doing their part, too.
Another critical member retention tactic for today's gym-goers? Keeping up with the latest technology and trends. Fitness monitoring technology consistently tops the list of things fitness members are looking for from today's gyms. Enter the AccuroFit System. Download the catalog today to learn more about what AccuroFit can do for you.