Wearables Land Top Spot on ACSM's Top Fitness Trends for 2019
The fitness industry moves quickly. Knowing the trends and staying ahead of them is an invaluable enterprise for fitness business owners. Wondering what to expect in 2019? Wearables claimed the number one spot in the American College of Sports Medicine's (ACSM) Worldwide Survey of Fitness Trends for 2019.
Here's a closer look at why wearables are expected to reign supreme looking ahead, along with an overview of the other trends that made the cut.
Why Wearables?
Wearable technology is not exactly new to the ACSM survey. It debuted on the list in 2016 in the first-place spot and held onto it for 2017. Wearables dropped to third in 2018 only to reclaim their premier positioning in 2019. ACSM credits the comeback of wearables to improvements in monitoring accuracy.
Other reasons why wearables continue to thrive in the health, wellness, and fitness markets include their potential to boost customer lifetime value by allowing gyms to deliver the right message to members at the right time; their key role in member engagement and retention; their ability to enhance personal training and paid programming potential; the tracking, feedback, and meaningful insights they provide; social amplification; and the "gamification" factor.
Said Walter R. Thompson, the lead author of the survey and associate dean in the College of Education & Human Development at Atlanta's Georgia State University, in a press release: "Wearable tech can be an invaluable tool for those looking to get and stay physically active. We can easily monitor heart rate, count steps, track calories and create plans. The data collected by wearable technology can be used to inform the user and their health care team about important daily health metrics like physical activity, and it encourages healthier lifestyle choices."
Other Key Fitness Trends for 2019
While wearables were the undisputed champ, ACMS also saw big things ahead for other trends, including group training, HIIT, fitness programs for older adults, and bodyweight training in second, third, fourth and fifth place, respectively.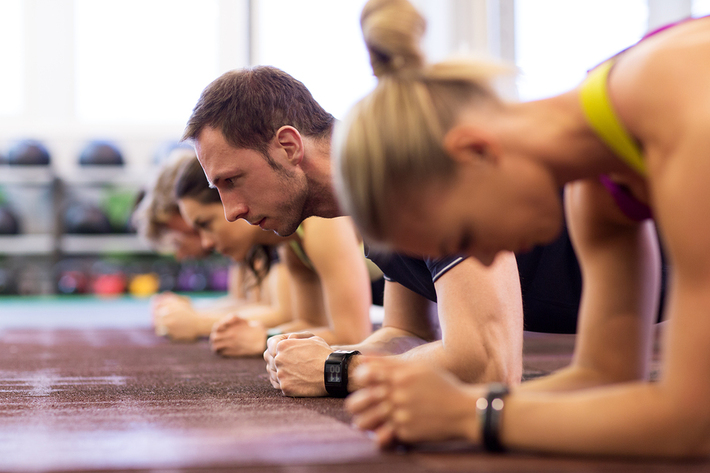 Rounding out the top 10 were employing certified fitness professionals, yoga, personal training, functional fitness training, and "exercise is medicine."
Comprising the 11th through 20th spots, meanwhile, were health/wellness coaching, "exercise for weight loss," mobile exercise apps, mobility/myofascial devices, worksite health promotions and workplace well-being programs, outcome measurements, outdoor activities, licensure for fitness professionals, small group personal training, and post-rehabilitation classes.
Also worth noting? These trends don't exist in a vacuum. Rather, they are both complementary and symbiotic -- especially when it comes to wearables. For example, outcome measurements are facilitated by wearable technology, while mobile exercise apps partner with them. In other words, wherever you turn in 2019, you can expect to see the power of wearables and fitness monitoring technology on display.
The takeaway is clear for today's forward-thinking fitness businesses. While wearables may indeed be the "future of fitness" they're also very much the right now of fitness. Request a demo today to learn more about what wearables can do for your fitness business.