What All Fitness Business Owners Should Know About Brand Building
Operating a thriving fitness business isn't just about investing in the latest fitness equipment and running the right programming. In fact, all of this is moot without one essential aspect: Marketing. But marketing isn't just about getting the word out, either. It's also about conveying your brand differentiator: What makes your fitness business different than the rest?
Here's a closer look at why branding matters, along with tips aimed at helping you make the most of your fitness business branding efforts.
The Branding Imperative
In order to determine why branding matters so much, we must first identify what "brand" means. Perhaps Entrepreneur puts it best with, "Simply put, your brand is your promise to your customer. It tells them what they can expect from your products and services, and it differentiates your offering from your competitors'. Your brand is derived from who you are, who you want to be and who people perceive you to be."
Whatever your business, branding matters. The highly competitive, fast-moving world of fitness is no different -- particularly from a member retention and recruitment perspective. Continues Entrepreneur, "If a brand fails to develop or maintain differentiation, consumers have no basis for choosing it over others. The product's price will then be the determining factor in a decision to purchase. Absent differentiation, the core of any brand and its associated business — a loyal customer base — cannot be created or sustained." We can think of no better industry to which this more directly applies than the fitness sphere.
Understanding Your Brand
All of which begs the question: What is your brand? For some fitness businesses, this may initially seem like a no-brainer. For example, if you specialize in yoga or indoor cycling, or you cater primarily to bodybuilders or busy moms, the natural conclusion is that since these different groups have different needs, they'll also be motivated by different brand messages. While these considerations are part and parcel of your brand strategy, your brand is much more than that.
The overarching theme? How do you want your members and prospective members to feel when they think about your gym or health care center?" Explains Entrepreneur, "The added value intrinsic to brand equity frequently comes in the form of perceived quality or emotional attachment. For example, Nike associates its products with star athletes, hoping customers will transfer their emotional attachment from the athlete to the product. For Nike, it's not just the shoe's features that sell the shoe."
While this may sound mercurial, it can be broken down into a few core elements, including your mission; the features and benefits of the products and services you sell; your existing image; and the qualities that matter to your organization.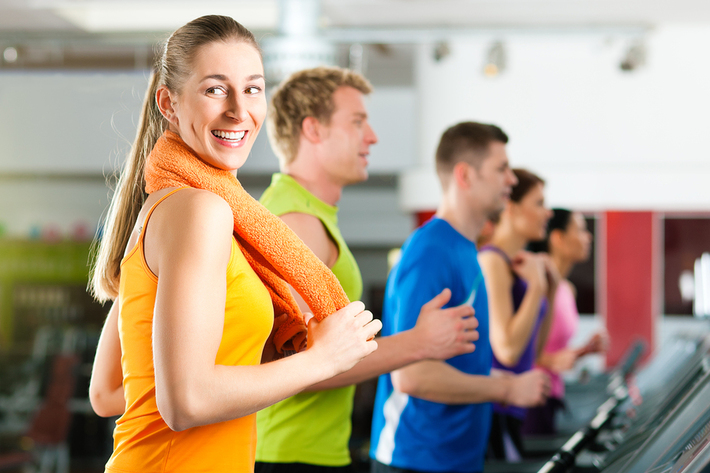 Fitness Business Branding 101
To a large degree, the brand message you convey is largely within your control in the form of your marketing materials and advertising efforts, but it also encompasses more. Everyone, from your staff and personal trainers to what people are saying about your fitness business on social media, contributes to your brand.
One of the most important words for any brand strategy? Consistency. Everything you do -- from your logo to your website to your email marketing campaigns -- should reflect your brand. Are you going for formal and educational, or casual or friendly? There's no right or wrong -- as long as it's applied unilaterally. Maintaining one "voice" across all member touch points is key.
Also vital? Training your team on your brand. How they interact with members directly impacts the impression your business leaves.
One final imperative for any fitness business looking to boost their brand? If a brand is a promise, there's a second part of the equation: Delivering on that promise. Failing to deliver, meanwhile, may mean the difference between success and stagnation. If you fall short in this area, you undercut member loyalty and give them one less reason to stick around.
To learn more about how the Accurofit System can help you boost your brand, membership recruitment efforts, and bottom line, download the catalog today.