Will Your Fitness Business Make the Most of the New Year?
Of the millions of people who made New Year's resolutions for 2018, 45 percent of them were focused on losing weight or getting in shape, according to Statista. At the same time, 53 percent of them resolve to save money in the year ahead.
This can be an interesting proposition for fitness business owners. How can you support member recruitment and retention in 2019? Here's a closer look at what you need to know to make sure your business has a happy (and lucrative) new year.
Your Target Audience is Everything
"This is the time of year that your target audience is at its largest and most impressionable. If you have the budget, you should be going after as many people in your target audience to ensure you capitalize on each and every resolutioner," proposes Brands with Fans.
Unfortunately, many fitness businesses throw everything at the wall and hope something sticks. However, this can be counter-productive. After all, what's the point of marketing to people who will never become members? Conversely, honing in on qualified leads (for example, by calling former personal training clients and inviting them back to train with a discount) can lead to better results and ROI.
Equally important is unique messaging. Your clients are telling you what they're interested in; it's up to you to make sure they know your products and services fit the bill.
This isn't limited to digital marketing. If you hold a New Year's open house, for example, following up with the people who attend can help convert leads into paying clients.
Skip the Shame
While losing weight may be a goal for some of your potential members, focusing on this can be more shaming than motivating. By focusing on how your gym supports health and wellness from a broader perspective, you become a partner in the process. Remember, 21st-century clients are inherently wary of sales pitches and prize authenticity above all else.
Advises Brands with Fans: "When communicating to consumers why they need your product, don't insult them, their bodies, or their idea of what being fit means. Make your message unique to your brand and brand values, and steer clear from clichés like 'New Year, New You!'"
Keep It Up
While the turn-of-the-year may see a spike in the volume of purchases, the months afterward can also be winners for fitness businesses. Not everyone makes good on their resolutions the first time out. In fact, many people fall off the wagon in mere days.
Make sure your target audience knows how your fitness business can help support their success, regardless of the day of the month or year. This means following up any New Year campaigns with consistent recruitment and retention efforts, such as blogging, using social media, and partnerships with local retailers.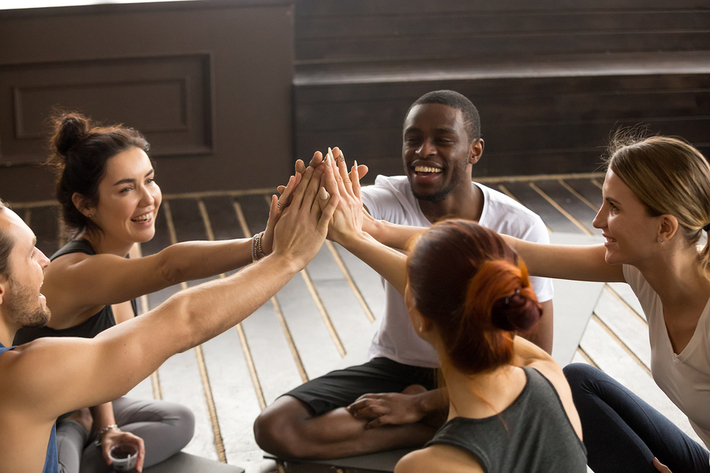 It also means adopting a longer view with your marketing, including a slight shift in perspective. "Plan a campaign now to 'talk' to those people who had the best of intentions and need a bit of a push with your email, social, blog, and traditional advertising with a 'Never Too Late for New Year's Resolutions' message. Plan this for February and then again in the summer, for those who haven't stuck to their plans," recommends ClubReady.
Use What You've Got
The change of the year is also a good opportunity to assess whether you're making the most of one of your greatest sales tools, your current members. New Year's is the perfect opportunity to run a referral campaign aimed at boosting membership while rewarding member loyalty toward enhanced engagement, satisfaction, and member retention.
"There was a 315 percent increase around the search 'gym' and a significant increase around fitness-related searches [in January of 2017], which shows just how important people are taking physical fitness," iQuanti CEO Satra Rachakonda told NBC News.
With the popularity of wearables expected to continue to grow in 2019, the new year is also an ideal time to learn more about fitness monitoring technology. Request a demo today to learn more about what the AccuroFit system can do for you.