Get Creative with Group Fitness Classes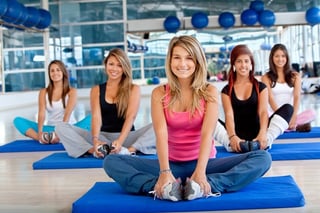 One of our recent blog post's "Take the Routine Out of the Fitness Routine" explored ways to increase member retention in your fitness center by amping up your offerings to excite your gym attendees. One of the ways mentioned was to offer a variety of different fitness classes to break up the routine and create more interaction and interest.
Today, it is time to take a deeper dive into some exciting options for group fitness that just might be the ticket for enlivening your members and keeping everyone on track with their fitness goals permanently.

Spin with a Twist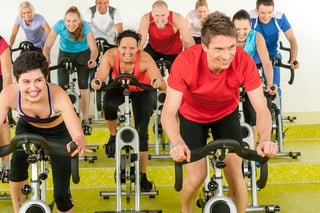 While spin classes are typically already high-octane affairs, it is possible for your members to start dialing it in during spin classes, unless you can keep the energy level high. This can be accomplished with a great spin instructor.
However, if you want to dial up the excitement another notch, add technology into the mix. With AccuroFit club solutions, your members can monitor their performance on easily customizable screens. Your instructor can keep the energy level high by setting target zones at various stages of the workout or even setting up some friendly competition among class members. Members using AccuroFit heart rate monitors can easily see their progress during class and keep a continuing record of progress over time.
Take It Outside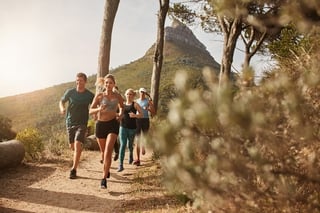 Reduce boredom by switching the venue of your group classes. Offer aerobics on the lawn of your fitness center, or in a nearby park. Use nature trails for group jogs. If you do not have suitable nature trails in your area, Shape.com recommends adding a little spice by organizing a fitness scavenger hunt.
To do this, map out a route through the park, making a note of recognizable landmarks. For each landmark, assign a body weight exercise along with the number of reps required. This exercise keeps fitness group members alert as they try to spot all the landmarks and remember their corresponding exercises.

For senior citizens, offer outdoor Tai Chi in the early morning hours before the temperature rises. Simply adding the beauty of the great outdoors can make a sometimes stale fitness class fresh and new again.

AccuroFit's mobile app allows gym members to continue to track their activities and progress even in the great outdoors, providing an added bonus for your fitness center.
Offer Specialized Yoga Classes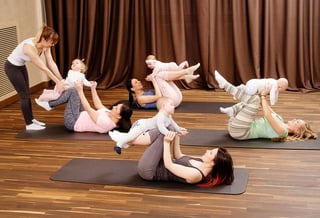 Offer chair yoga for seniors, baby yoga for parents with young children, and water yoga for those with mobility issues.

Ideafit.com's "15 Group Fitness Predictions for 2016 and Beyond" predicts: "Yoga will continue its time in the spotlight with special focuses such as "healthy back," "cancer wellness," "cardiac rehab wellness" and more."
Consider Condition-Specific Classes

The Ideafit.com article also notes: "Outcomes-based fitness (reducing blood pressure, weight, etc.) for fitness programs that are health-and wellness-based are becoming the standard."

Take advantage of this trend by matching health-and-wellness-based classes to health conditions that are common among your members. Advertise these special classes via signage in the fitness center and member emails texts, and newsletters.

Use the Right Technology

Using creativity to design group fitness classes around the special interests and needs of your customer base helps you keep members engaged and retention rates high. As the fitness industry continues to evolve, more and more of your members will be embracing new technologies to interact with your fitness center.

The Ideafit.com article continues:
"Instructors and program directors should prepare for more integration between technology, workout tracking, and analysis."
Are you prepared? To explore all that the AccuroFit system can offer you and your members, download our catalog of products today and break the routine of your group fitness classes with AccuroFit club solutions.